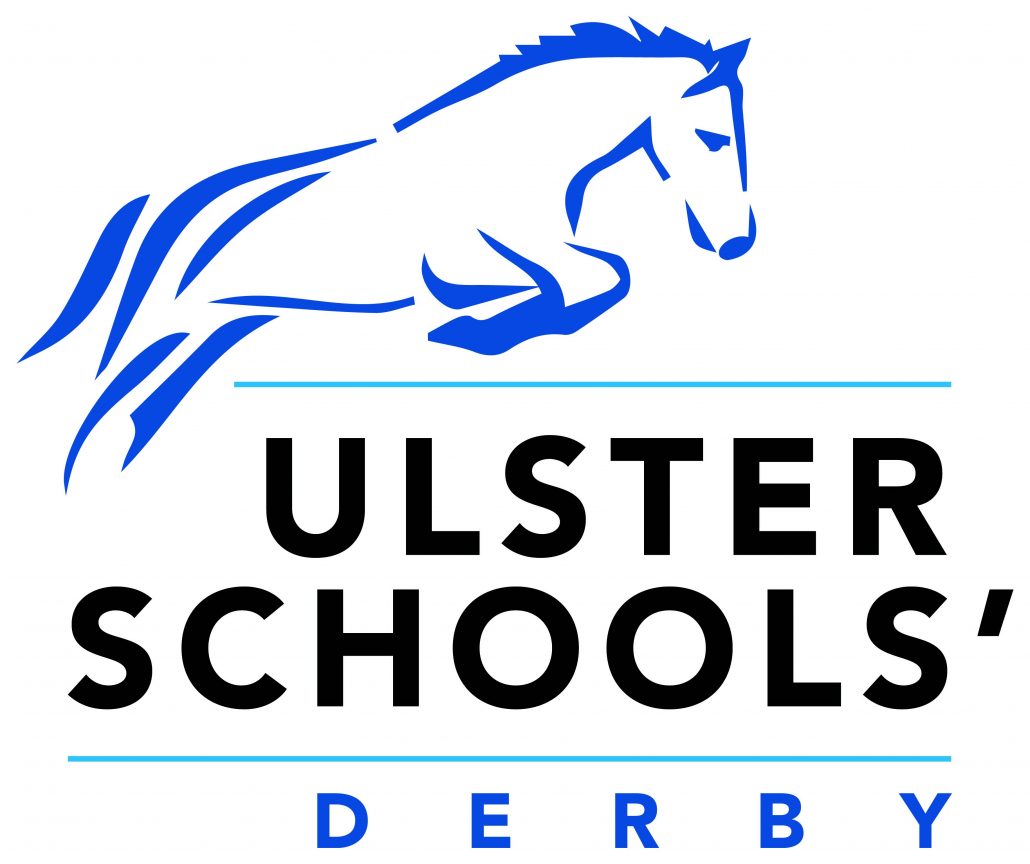 The 7th Ulster Schools' Derby, organised by Glenlola Collegiate School, was held on Thursday 20 June at Gransha Equestrian Centre. Ninety-five from schools across Northern Ireland attended the event.
Lilly Murphy, representing Meadowbridge Primary School won the Primary School class (sponsored by Autokleen) riding her pony Coolaney Breeze. Lily was also the worthy winner of the Tack and Turnout prize kindly sponsored by Botanica.
The Newcomer class, sponsored this year by Spar (Rathmore Road), was won by Grace Morton representing Larne Grammar School riding Jolene. The tack and turnout prize, for this class, was won by Lucy Kayes of Saintfield High School riding Slievenisky Shamrock.
The Novice class, sponsored by Brewin Dolphin (Belfast) was the largest of the day with 45 riders. Harrison Blair riding Sam (representing Campbell College), won this class with a clear round and a time of 22.71 seconds. Harrison Blair, Adam Booth, Roddy Pannell and Calum Pearson, representing Campbell College, won the Novice Team competition and Elly-Rose Dixon, from Glenlola Collegiate, was the worthy winner of the Tack and Turnout Prize.
The final class of the day was the Open competition sponsored by U-Hire NI (ltd.). Cerys Howell, representing Glenlola Collegiate School, retained the individual Open title, having won this class last year. Rachel Broom, Abby Cummiskey, Alice Emmett and Alex Ogle, representing Down High School, finished the day as Open Team Champions. Tack and Turnout for the Open class was won by Anna Roscoe representing Ballyclare High School.
Champions, in each class, were presented with trophies, donated by Glenlola Collegiate, and embroidered rugs. These prizes were only possible due to the generosity of the class sponsors and of Jim Devenport Butchers (Donaghadee) who sponsored the rosettes. Botanica sponsored the Tack and Turnout prizes. We are indebted to all of our sponsors.
As the event was a fundraiser for Macmillan Cancer Support, Botanica kindly donated a luxury hamper to the top fundraiser. This year we had two substantial donations from Chloe Beacham (Limavady High School) who raised £205 and Alex Ogle (Down High School) who raised £216. In total £824 on Derby day but we are delighted to announce that a final total of £1000 will be presented to Joanne Young from Macmillan Cancer Support later this week.
We would like to take this opportunity to thank a number of people whom without their support, the event would not have been possible. Thanks go to Adrienne Stuart from Gransha Equestrian Centre who designed, built and maintained the derby course. Thanks must also go to our judge, Paul Johnston, who gave of his time so freely. To Jan and Phoebe Beaumont who judged the Tack and Turnout of every competitor. Thanks must also go to the staff from Glenlola Collegiate who helped at the event (Katie Johnston, Brian and Jenny McMillan and Alison Simpson) and to the trusty team of pupil volunteers. Finally, we must thank all those competitors, parents, teachers and helpers from the many different schools who were in attendance. Without their support the event would not run. John Gibson of Sporting Images was in attendance throughout the day.
Results:
Class 1 – Primary Individual:
| | | | |
| --- | --- | --- | --- |
| Placing | Pupil name | Pony/Horse | School |
| 1st | Lily Murphy | Coolaney Breeze | Meadowbridge Primary School |
| 2nd | Darcey Greer | Duke | Ballyholme Primary School |
| 3rd | Daniel Pearson | U No Me | Campbell College Junior School |
| 4th | Lily Murphy | Toby | Meadowbridge Primary School |
| 5th | Ellie Murphy | Coolaney Breeze | Meadowbridge Primary School |
Class 2 – Newcomer Individual:
| | | | |
| --- | --- | --- | --- |
| Placing | Pupil name | Pony/Horse | School |
| 1st | Grace Morton | Jolene | Larne Grammar School |
| 2nd | Natasha O'Tiarnaigh | Noah | Strathearn School |
| 3rd | Lucy Kayes | Slievenisky Shamrock | Saintfield High School |
| 4th | Katie Lowry | Crosspoint Tobin | Carrickfergus Grammar School |
Class 3 – Novice Individual
| | | | |
| --- | --- | --- | --- |
| Placing | Pupil name | Pony/Horse | School |
| 1st | Harrison Blair | Sam | Campbell College |
| 2nd | Zara Wood | Ard Mirah | Glenlola Collegiate |
| 3rd | Molly McCartney | Hufflepuff | Ballyclare Secondary School |
| 4th | Roddy Pannell | Rico | Campbell College |
| 5th | Ellie-Mae Johnston | Roccor Calypso Crème | Omagh High School |
| 6th | Kathryn Finlay | Little Miss Mollie | Strathearn School |
Novice Team:
| | |
| --- | --- |
| Placing | School |
| 1st | Campbell College |
| 2nd | Strathearn (Stars) |
| 3rd | Down High School (Gold) |
| 4th | Glenlola Collegiate |
| 5th | Lurgan Junior High School |
| 6th | Carrickfergus Grammar School |
Open Individual:
| | | | |
| --- | --- | --- | --- |
| Placing | Pupil name | Pony/Horse | School |
| 1st | Cerys Howell | Willow | Glenlola Collegiate School |
| 2nd | Abby Cummisky | CSC Apache Dove | Down High School |
| 3rd | Lucy McKechnie | Apatchy | Coleraine Grammar School |
| 4th | Harrison Blair | Lily | Campbell College |
| 5th | Bradie Hogg | Tyson | Ballyclare High School |
| 6th | Hannah Patterson | Ladybug | Saintfield High School |
Open Team:
| | |
| --- | --- |
| Placing | School |
| 1st | Down High School (Flyers) |
| 2nd | Ballyclare High School |
| 3rd | Campbell College |
| 4th | Belfast Royal Academy |
| 5th | Down High School (Eagles) |
https://glenlolacollegiate.net/wp-content/uploads/2018/05/Ulster-Schools-Derby-Logo.jpg
1718
2048
office
https://glenlolacollegiate.net/wp-content/uploads/2017/11/Glenlola-Collegiate-Crest.png
office
2019-06-24 14:35:15
2019-06-25 12:22:05
Ulster Schools' Derby 2019