At Glenlola Collegiate School, we have a House System that we are notably proud of.  It is a long standing tradition and an important and vibrant part of school life. Upon entering Year 8, pupils are assigned to one of the six School Houses – Clanmorris, Dufferin, Hamilton, Harte, Ward and Weir.  Each House is identified by its own colour and pupils wear this on their blazers above the school crest. Sisters are allocated to the same House and pupils are placed in the same House as their mother, if possible.
The House system encourages collegiality and healthy competition amongst our pupils.  It promotes good behaviour, encourages teamwork, provides opportunities to take on responsibilities and brings everyone in the School together.  All pupils have the opportunity to represent their House in a number of interhouse events, competitions and quizzes held throughout the year. These include Sports Competitions, the Choral Competition, Dance Competition and the House Bake Off Challenge, to name a few.  There are always House points up for grabs in these interhouse challenges which go towards the House Total.  A wide range of events take place that vary from year to year.  The programme includes events for individual year groups as well as whole school activities.
Each House is led by a team of pupils including the House Captain, Deputy House Captain, Games Captain, Assembly Organiser, Publicity Officer and a member of staff as the Head of House. The team plan and lead weekly House assemblies and are responsible for motivating, involving and organising their house. The House system provides opportunities for pupil leadership and great camaraderie between all the different year groups.
The House year begins in June with Sports Day and continues through to May of the following year when it culminates in the whole school House Winners Assembly. This is when all the hard work pays off and the winners are announced as the three awards are presented: The House Shield for first place, The Runner Up House Shield for second place and the dreaded wooden spoon for House in sixth place.
Clanmorris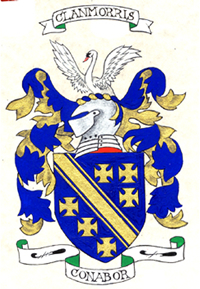 | | |
| --- | --- |
| Mrs J Hughes | Head of House |
| Caitlin Lowry | Captain |
| Clara Fitzpatrick | Deputy |
| Taylor Beattie | Games |
| Olivia Belshaw | Assembly |
| Emily Linden | Publicity |
Motto
"Conabor" – I will try
The Clanmorris family is descended from George Bingham who was Military Governor of Sligo. One of his descendants John Bingham, in 1800 became the 1st Baron Clanmorris. The 5th Baron Clanmorris married Matilda, the only child and heiress of R C Ward of Bangor Castle.
Hamilton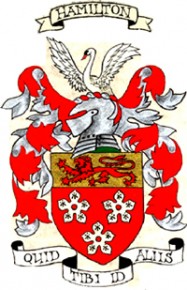 | | |
| --- | --- |
| Mrs S Lauder | Head of House |
| Annabelle McClure | Captain |
| Hayley Montgomery | Deputy |
| Cerys Edge | Games |
| Rosie Page | Assembly |
| Simmi Shi | Publicity |
Motto
"Quid tibi id aliis" – Do for others what you would do for yourself
As a reward for 'Services Rendered' to the English Crown James Hamilton from Ayr received the six parishes of Bangor, Holywood, Dundonald, Ballyhalbert, Killinchy and Killyreagh.  James was made a Viscount in 1622 and the 1st Lord Clandeboye in 1625.
Dufferin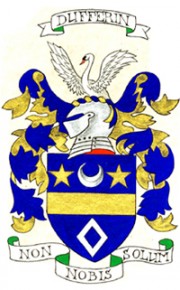 | | |
| --- | --- |
| Mr K Dorman | Head of House |
| Chloe Carson | Captain |
| Morgan Fulton | Deputy |
| Zara Wilson | Games |
| Anna Selby | Assembly |
| Luci Matier | Publicity |
Motto
"Non Nobis Solum" – Not for ourselves alone
The Dufferin family is descended from the Blackwoods who crossed to Ulster in the 16th Century and were retainers to Mary Queens of Scots.  In the late 17th Century the Blackwood family regained the present Clandeboye Demesne from the Hamiltons.  The fifth Baron and first Marquis of Dufferin and Ava built Helen's Tower in memory of his mother.
Harte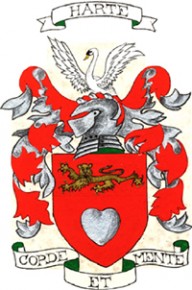 | | |
| --- | --- |
| Mrs D Spence | Head of House |
| Emma McAllister | Captain |
| Kirstyn Wilson | Deputy |
| Taylor Bradford | Games |
| Kitty Weatherup | Assembly |
| Connie Pagan | Publicity |
Motto
"Corde et mente " – With heart and mind
When her husband, Rev Edward Harte retired from the Methodist Ministry in 1895 due to ill health, Mrs Mattie Harte began to enrol private pupils in their house 'Glenlola' at 14 Clifton Road, Bangor.  Miss Millicent Harte was headmnistress of Glenlola from 1900 to 1930.
Ward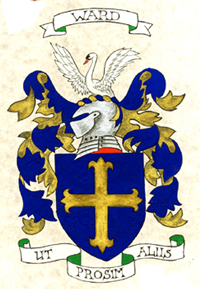 | | |
| --- | --- |
| Mrs  L Boyd | Head of House |
| Molly McKibben | Captain |
| Connie Butler | Deputy |
| Ellie McCartney | Games |
| Sophie Martin | Assembly |
| Joni Alexander | Publicity |
Motto
"Ut prosium aliis " – That I may benefit others
The first Ward to settle in Ireland was Bernard Ward in the year 1570.  One of his descendants, Michael Ward, married Miss Anne Hamilton of Bangor and through this alliance inherited estates in Bangor. Michael's son became the 1st Viscount Ward of Bangor.
Weir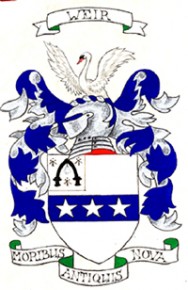 | | |
| --- | --- |
| Mrs K Johnston | Head of House |
| Elena Friar | Captain |
| Lucy Wilson | Deputy |
| Erika Henry | Games |
| Zia Caldwell | Assembly |
| Shannon Delaney | Publicity |
Motto
"Moribus Antiquis Nova" – With respect for tradition we will do new  things
In 1919 Mrs Weir, a member of Hamilton Road, Methodist Church, acquired premises for the 'Ladies Collegiate School' on Pickie Terrace. From then on the name of the school was Bangor Collegiate.  Miss Annie Weir was Principal from 1941 – 1946, and she was followed by Miss Katy Weir 1946-51.