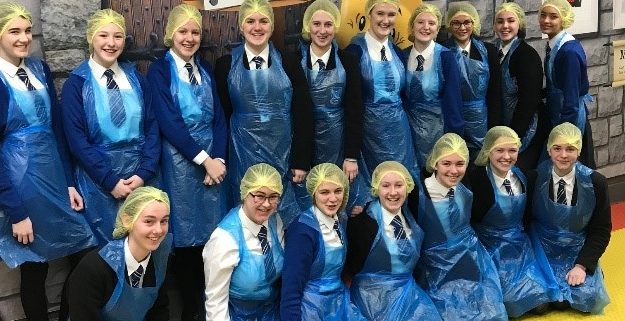 On Wednesday 11th April, we visited Tayto Factory located at Tayto Castle in Tandragee. Tayto Castle was built by the O'Hanlon Clan in 1641 which was then sold on to Mr. Hutchinson in the 1950's who then went on to develop the classic Tayto brand in 1956.
When we arrived at Tayto, we were welcomed by our tour guide Lenore. We had to use hand sanitiser as hygiene in the factory is very important. We then got to meet and get photos with the mascot Pat Tayto. We were then talked through the rules of touring the factory to keep us safe, one of the rules was to wear a hairnet and disposable apron in order to prevent anything contaminating the crisps. Lenore told us about the history of the factory before we entered and after learning about our surroundings, we were shown around the warehouse. This was full of 40 crates, each holding 1 ton of potatoes. We were told about the process of cleaning the potatoes and shown the machinery used to do so. Once we had our tour of the warehouse we went into a small glass room to wash our hands before going into the factory.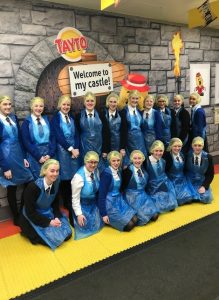 The first thing we saw in the factory was the crisps before they were fried, on the day we were there they were making Onion Rings, so we saw those before they expanded in the oil. Lenore showed us how to make a bowl out of our aprons and we got to taste some plain Rough-Cut crisps. Next, we saw the packaging room and how the machinery is used to package the different crisps. Throughout our tour we got to taste various flavors of crisps like Spicy Thai, Onion Rings, Cheese and Onion and a new flavour that is still in testing. We were then showed where the crisps are put into multi-packs and after that we saw a small room where a worker was testing the oil, checking for any problems in the samples. We were each given 2 free packets of crisps of our choice and at the end we had a quiz to win a free 6 pack of our choice. Throughout our tour we saw very few workers, we were told that there are 300 employees, but we only saw around 25. The workers did not look very happy in their job as it is very monotonous and is the same every day. We finished off our trip with a McDonalds which was appreciated after our factory tour.
Overall, our trip was very enjoyable and also very worthwhile as we were able to apply all that we had learned about manufacturing in class to a real life factory environment teaching us even more about this area of production.
Elsa Collins, Hollie Jordan, Rebecca McGookin and Emma Allen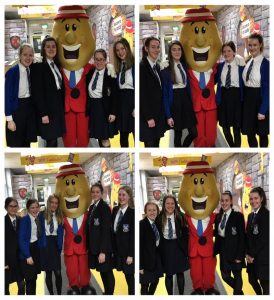 https://glenlolacollegiate.net/wp-content/uploads/2018/04/Tayto-Visit-2018-2-e1524496302280.jpg
856
625
office
https://glenlolacollegiate.net/wp-content/uploads/2017/11/Glenlola-Collegiate-Crest.png
office
2018-04-23 15:35:28
2018-04-23 15:40:06
Year 11 Business Studies Visit to Tayto Factory