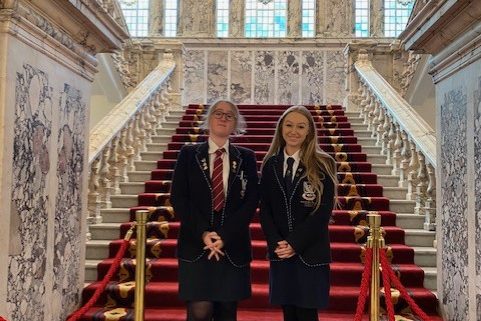 Glenlola at Student Cop 27
On Wednesday 16th November Antonia Geddes (Chair of the Eco-Council) and Autumn Hawthorne (Eco-Council member) represented Glenlola Collegiate at the Student COP 27 in Belfast City Hall.  Run by the British Council, the event brought together students from across Northern Ireland to debate the climate crisis.
Each school was designated a role, and the Glenlola Collegiate students played the part of the China delegation.  Working with students from St Dominic's Grammar and Ulidia Integrated college they considered how China, the world's biggest carbon dioxide producer, could Contribute to reducing carbon emissions, while ensuring that there was an equity of response from all major countries.
Students from each country worked hard to broker deals that would eventually limit world temperature increases to 1.5oC. After two rounds of debate and discussion, including a working lunch, the concessions made by each country were analysed by a computer programme.  The students were delighted to discover that their efforts had been successful.
Reflecting on their day the pupils observed that they had a much better understanding of the issues faced across the world and how vital communication between countries is if the climate crisis is to be resolved. All countries and all people have a role to play in saving the world.
https://glenlolacollegiate.net/wp-content/uploads/2022/12/PIcture-1.jpg
640
481
office
https://glenlolacollegiate.net/wp-content/uploads/2017/11/Glenlola-Collegiate-Crest.png
office
2022-12-05 11:05:25
2022-12-05 11:22:44
Glenlola Pupils at Student Cop 27