The 1st Ulster Schools' Dressage competition, organised by Glenlola Collegiate School, was held on Saturday 10 November at Gransha Equestrian Centre. Eighty-three riders, from schools across Northern Ireland, participated in the event which was sponsored by Pegus Horse Feed.
The Ulster Schools' Dressage competition follows the success of the Ulster Schools' Derby, held each June. The idea behind the event was to provide greater opportunities for pupils to represent their school in equestrian competitions. Currently there are only show jumping competitions available, yet for many pupils, they are not at a level where they feel confident to represent their school at this discipline. It is hoped that the establishment of Ulster Schools' Dressage will introduce more pupils to equestrian competitions.
The Primary Intro class was won by Madison Gordon riding Downlane Rainy Day. Like many of the competitors in this class, this was Madison's first competition. She was representing Ballyvester Primary School. Second was Charlotte McAllister who was representing Creavery Primary School (Antrim) and third in this class was Eva O'Neill representing Loughries Integrated Primary School.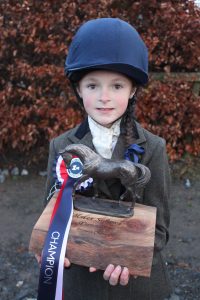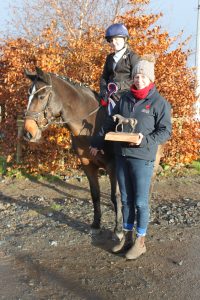 The Primary Prelim class was won by Eve O'Neill who was representing St. John Bosco Primary School. Eva had travelled from Ballymena to compete at the event so it was well worth the visit.
The largest class of the day was the Novice Prelim class with 55 riders competing. Like the Primary School classes this was, for many, their first schools competition. The deserving winner was Katelyn Irvine, riding Dutch Shadow, representing Carrickfergus Grammar School. Second was Grace Moore who had travelled from County Antrim to represent Rainey Endowed and third was Kerry Magill representing Wallace High School.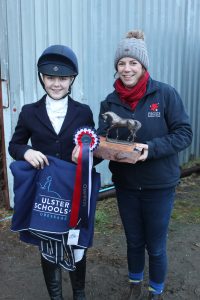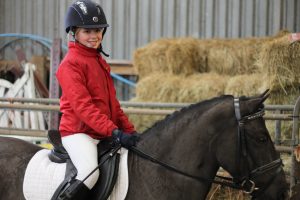 The final class of the day was the Open competition. Eighteen competitors contested this class which was won by Noah Brown, representing Royal Belfast Academical Institution. It was a 1-2-3 for the boys in this class with brothers Tom and Ben Rowlatt-McCormick, representing Friends School Lisburn, taking second and third places respectively.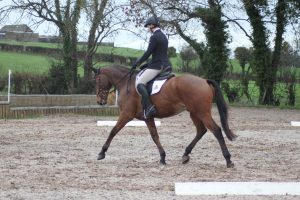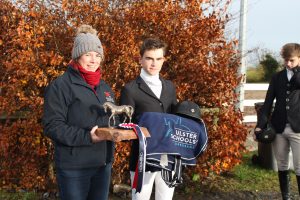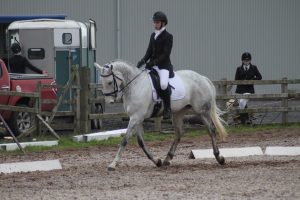 Sixteen teams were entered into this event. Teams of three were made up of riders who were competing as individuals. Each individual score was combined to give an overall score for the pre-declared team. Taking first place, and being crowned Team Champions with a combined score of 214.84, were Friends School Lisburn. Second place went to Bangor Mix-ups (consisting of Zara Wood from Glenlola Collegiate and Megan Hegarty of Bangor Academy and Sixth Form Centre) with a combined score of 202.27. They were closely followed by Wallace high School (Team 1) who were placed third on a combined score of 201.46.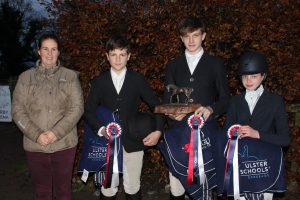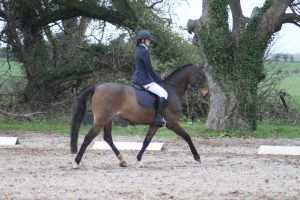 Champions, in each class, were presented with trophies, donated by Glenlola Collegiate, embroidered rugs and bags of horse feed. These prizes were only possible due to the generosity of the event sponsor Pegus Horse Feed, which were presented by Thompsons' representatives Raymond Bready and Allison Matthews at the event. Speaking on behalf of Thompsons, Allison Matthews congratulated everyone that had worked together to make the event such a success. "It is always exciting to be involved in a new competition and especially one that is giving an opportunity to children to develop skills in another equestrian discipline. Hopefully this is the first of many Ulster Schools' Dressage events and that everyone has gone home happy with how the day went and maybe even inspired to do a bit more dressage."
We would like to take this opportunity to thank a number of people whom without their support, the event would not have been possible. Thanks to Adrienne Stuart from Gransha Equestrian Centre for the use of venue. Thanks must also go to our judges Ivor Harper and Lucinda Webb and their scribes Hilary Jones, Phoebe Beaumont and Ciara Gilroy. To the Glenlola Collegiate staff, parents and pupils who helped at the event. Finally, we must thank all those competitors, parents, teachers and helpers from the many different schools who were in attendance. Without their support the event would not run.
Results:
Class 1 – Primary Intro:
| | | | |
| --- | --- | --- | --- |
| Placing | Pupil name | Pony/Horse | School |
| 1st | Madison Gordon | Downlane Rainy Day | Ballyvester Primary School |
| 2nd | Charlotte McAllister | | Creavery Primary School |
| 3rd | Eva O'Neill | Blossom | Loughries Integrated Primary School |
| 4th | Abbey Wallace | Skippy | Loughview Integrated Primary School |
| 5th | Robyn McMurray | Royanna | Dromara Primary School |
| 6th | Megan Matthews | Spartacus | Tildarg Primary School |
Class 2 – Primary Prelim:
| | | | |
| --- | --- | --- | --- |
| Placing | Pupil name | Pony/Horse | School |
| 1st | Eve O'Neill | Paco | St. John Bosco Primary School |
Class 3 – Novice (Prelim)
| | | | |
| --- | --- | --- | --- |
| Placing | Pupil name | Pony/Horse | School |
| 1st | Katelyn Irvine | Dunch Shadow | Carrickfergus Grammar |
| 2nd | Grace Moore | Dolly | Rainey Endowed School |
| 3rd | Kerry Magill | Bonmahon Quick Step | Wallace high School |
| 4th | Abby Cummiskey | Apache Dove | Down High School |
| 5th | Ralph Robinson | Power Day | Campbell College |
| 6th | Patrick Cunningham | Enbarcadero | Antrim Grammar |
Class 4 – Open:
| | | | |
| --- | --- | --- | --- |
| Placing | Pupil name | Pony/Horse | School |
| 1st | Noah Brown | Cloud Atlas | RBAI |
| 2nd | Tom Rowlatt-McCormick | Mon Ami Tonnerre | Friends School Lisburn |
| 3rd | Ben Rowlatt-McCormick | MJI Cabernet | Friends School Lisburn |
| 4th | Connie Crothers | Stella | Wallace High School |
| 5th | Megan Hegarty | Rubioso | Bangor Academy |
| 6th | Erin Johnston | Fitz | Carrickfergus Grammar |
Open Team:
| | |
| --- | --- |
| Placing | School |
| 1st | Friends School Lisburn |
| 2nd | Bangor Mix up |
| 3rd | Wallace High School (T1) |
| 4th | Carrickfergus Grammar (T2) |
| 5th | Rainey Endowed School |
| 6th | Down High School (Green) |
https://glenlolacollegiate.net/wp-content/uploads/2018/11/Zara-Wood-with-Raymond-Bready-Pegus-Horse-Feed-1.jpg
2048
2021
office
https://glenlolacollegiate.net/wp-content/uploads/2017/11/Glenlola-Collegiate-Crest.png
office
2018-11-14 12:52:50
2018-11-14 12:59:21
1st Ulster School Dressage A Great Success