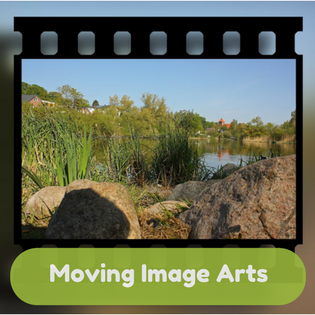 Moving Image Arts
Aims
To encourage pupils to approach film as an Art form critically.
To develop in pupils, the ability to identify and use the resources around them skilfully.
To nurture individual creativity and encourage independent thinking.
To learn the practical skills of film-making.
To learn industry standard creative technology.
To identify professional roles in the fast growing local film industry.
Staffing
Mr R Thompson
Mrs Harper
Subject Overview
This subject has been developed in the context of both the wider creative industries and the emerging but dynamic local Film and Television production scene. The theory side of the subject consists of the study of Film Language (Camera movement & position, Editing, Lighting, Visual style, etc.). The practical side consists of the making of a short film from concept to completion using industry standard software.
Key Stage 4
The pupils who have selected GCSE Moving Image Arts will take four tasks in Year 11 (Storyboarding, Sound design, Camera & Editing and Animation) and learn how to approach film critically through genre. In year 12, pupils will conceive and make their own short film and take an online exam assessing their knowledge of film language.
We follow the CCEA MIA specification, studying:
Unit 1: Critical Understanding of Creative and Technical Moving Image Production
Unit 2: Acquisition of Skills in Moving Image Production
Unit 3: Planning and Making a Moving Image Product
Key Stage 5
At AS and A2 level, pupils enhance their knowledge of film language and study the History of Film through various 20th century Film Movements. Pupils conceive and make their own short film in both years and take an online exam assessing their knowledge of film grammar and Film history.
We follow the CCEA MIA specification, studying:
AS LEVEL
AS 1: Realist and formalist Techniques and the Classical Hollywood style: Foundation portfolio
AS 2: Critical response
A2 LEVEL
A2 1: Creative Production & Research: Advanced portfolio
A2 2: Advanced Critical response
http://www.rewardinglearning.org.uk/microsites/moving_image_arts/
Career Opportunities
Apart from being an enjoyable experience with many skills which are transferable to other careers areas, the study of Moving Image Arts is appropriate for a range of careers and entrepreneurial opportunities within the creative industries. This would include the many diverse roles within Film, TV, Advertising, Games development, Mobile App development and Animation. It is also important to recognise that there are many emerging creative technologies with as-yet undefined career opportunities which are based on the moving image.